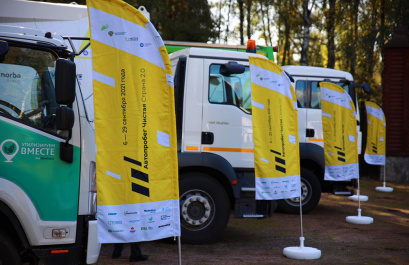 With the partnership of the Federal Environmental Operator, the Clean Country 2.0 motor rally started from Moscow in support of the "Ecology" national project. A convoy of garbage trucks will cover about three thousand kilometers and travel through the main cities of the Volga Federal District.
The program includes round tables dedicated to the implementation of the national project "Ecology", during which there will be introduced the federal state information system for accounting and control over the management of I and II class waste, created by the Federal Environmental Operator to manage the entire life cycle of waste, from education to recycling into secondary products.
The starting point of the route was the Losiny Ostrov National Park, where an exhibition of municipal equipment and an eco-hockey competition took place. A column of garbage trucks will leave from Moscow for the cities of Russia. Already on September 8, the first eco-day will be held in Vladimir.
In the cities of the route, the organizers of the project (the Association "Clean Country" and the Ministry of Natural Resources of Russia) have planned an exhibition of special equipment, during which it will be possible to learn a lot about the machines that today collect and remove municipal solid waste in Russia. Residents will be able to see with their own eyes how in a matter of seconds a garbage truck can turn large overall garbage into chips, and the youngest visitors to the exhibition will even be allowed to drive this car.
The rally "Clean Country 2.0" runs from 6 to 29 September through 11 constituent entities of Russia. These are Moscow (September 6), Vladimir (September 8), Nizhny Novgorod (September 10), Saransk (September 13), Ulyanovsk (September 15), Naberezhnye Chelny (September 20), Kambarka (September 22), Ufa (September 24), Chelyabinsk (September 27) and Yekaterinburg (September 29). In each participating region, the organizers have planned a series of activities.
The general partner of the rally is the Federal State Unitary Enterprise "Federal Ecological Operator".
Transport partner - Technotrade LLC (official distributor of GeesinkNorba in Russia).
The federal environmental operator, as part of the national project "Ecology", is creating in Russia an integrated system for handling waste of I and II classes.
The integrated system involves the creation of a federal state information system for accounting and control over the management of class I and II waste  and a production and logistics infrastructure for processing this waste into secondary products.