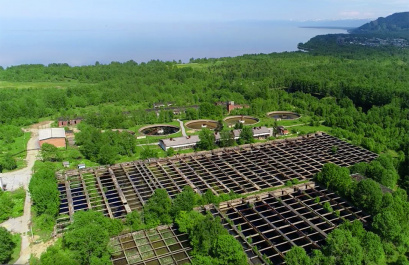 The Scientific Council of the Russian Academy of Sciences on Global Environmental Problems conducted an examination of proposals for technological solutions aimed at eliminating the accumulated harm to the environment on the territory of the Baikalsk Pulp and Paper Mill (BPPM, Baikalsk, Irkutsk Region). According to the examination data, six declared technological solutions were selected based on the composting of sludge-lignin or its lithification (encapsulation), which implies the implementation of measures on site.
"Such approaches for lignin-containing waste are a good and economically acceptable way of processing them," says the conclusion of the Russian Academy of Sciences, - "It is necessary to additionally conduct a comprehensive analysis of soil or technical soils formed during composting or lithification of sludge-lignin, and a conclusion on the possibility of its use for economic needs, including for the creation of a tree nursery".
A number of proposed solutions are aimed at purifying alkaline wastewater by filtration and reverse osmosis.
According to the RAS experts, all proposals can be admitted to pilot tests.
The goal of the BPPM reclamation project is the ecological improvement of Lake Baikal by reducing the area exposed to high and extremely high pollution. At the end of 2020, the Federal State Unitary Enterprise Federal Ecological Operator was designated as the sole executor of work on the preparation of the project and the elimination of the accumulated harm to the environment formed during the operation of the Baikalsk Pulp and Paper Mill (5.67 million m3). First of all, work is to be carried out at the Solzansky and Babkhinsky landfills, the facilities of the treatment plant workshop containing an alkaline liquid. Landfill maps contain a heterogeneous mixture of wastes of various natures generated during the production of cellulose, the operation of thermal power plants and other industrial activities. Therefore, there are no universal technological solutions for working with them.
The proposals were selected on the instructions of the interdepartmental working group on the organization of work to eliminate the accumulated harm to the environment, formed in the course of the activities of JSC BPPM, chaired by the Deputy Prime Minister of the Russian Federation Victoria Abramchenko.