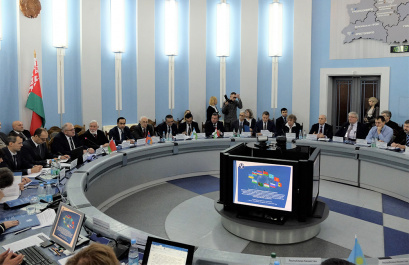 November 20, 2019 the twentieth anniversary meeting of the Commission of the CIS member states on the peaceful use of atomic energy took place in Minsk, chaired by the Deputy Minister of Energy of the Republic of Belarus Mikhail Mikhadyuk.
The event was attended by members of the Commission, representatives of the CIS Executive Committee, and delegations of the CIS member states of the Republic of Armenia, the Republic of Belarus, the Republic of Kazakhstan, the Kyrgyz Republic, the Russian Federation, the Republic of Tajikistan and the Republic of Uzbekistan.
Representatives of ROSRAO took an active part in the meeting. In particular, Dmitry Kucherov, Head of the Overseas Business Development Department, suggested analyzing the data on deliveries, accounting and monitoring of ionization sources originating from USSR and Russia, as well as determination of the need for assistance in ensuring the safety of "nuclear legacy – spent ionization sources".
This proposal was supported by members of the Commission. The working group "Implementation of the Agreement on the Information Interaction of the CIS Member States during the Movement of Radioactive Sources" led by Alexander Dorofeev, Head of a ROSATOM Project Office, is expected to conduct an analysis, give suggestions for further organization of activities in this area, and report on the results of the work at the next meeting of the Commission.