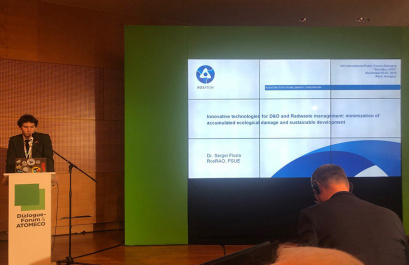 International public forum-dialogue and exhibition "ATOMECO 2019" took place on November 6-9 in Hungary, Pecs.
The purpose of the event is to build a dialogue between nuclear industry experts, authorities, experts, ecologists, and the public.
The forum is held by the State Atomic Energy Corporation ROSATOM on the initiative of the Hungarian side.
The Forum was attended by representatives of enterprises and cities of presence of Rosatom, Russian and Hungarian public organizations (including the Ecological and Legal Center Bellona and the ENERGIAPOLITIKA 2000 Society), who exchanged experience in the field of environmental control and transparency in the implementation of large infrastructure projects.
Opening the event, Deputy Chairman of the Public Council of the State Atomic Energy Corporation ROSATOM Sergey Baranovsky noted: "The AtomEco Forum-Dialogue has been held for the 13th time, thus for the first time abroad. It is not by chance that the event takes place in Hungary. Cooperation between Russia and Hungary in the course of the atomic project spans several decades. Significant experience has been gained in successful cooperation in the field of economic, cultural, educational cooperation. "
Deputy Director General for Overseas and New Businesses of ROSRAO Sergey Florya spoke about current technological approaches in the management of radioactive waste in order to minimize accumulated environmental damage and support sustainable development.
In his speech, Janos Shuli, the Minister responsible for the design, construction and commissioning of the two new Paksh NPP units in the Hungarian Government, said: "Our task is to discuss interaction and communication in achieving environmental goals, to maintain a balanced dialogue with municipalities, environmental and public organizations, develop cultural ties. We inform the population about everything that happens at the Paksh NPP, and we plan to continue to do this during the construction of the fifth and sixth units."
Attila Peterffy the mayor of Pecs, said: "We strive to ensure that all our work serves the interests of residents, and that our activities meet the criteria of responsible leadership. The AtomEco forum that opened today pursues the same goals and considers dialogue, transparency and high professionalism to be very important. ".
Edith Juhas, Secretary of State responsible for financial and utilities services, noted in her speech: "The use of atomic energy is cost-effective, it contributes to the economic growth of our country, and increases the competitiveness of our industry. We are confident that Paksh NPP allows you to maintain these values. The most important thing is the cleanliness of electricity production, since CO2 is not emitted in the process. In addition, we are constantly improving the safety of nuclear power plants. This is of great value, because the staff has accumulated a lot of experience. About 2 thousand people work at nuclear power plants, and if you count everyone who is provided with work thanks to it, then there are a total of about 10 thousand people recruited in the region. The demand for electricity is constantly growing, and therefore we believe that the Paksh-2 project is very important for Hungary from all points of view. We can definitely say that it will become the dominant source of energy in the future. Therefore, we are trying to conduct a dialogue with various sectors of society so that as many people as possible get information about the construction of new blocks. "