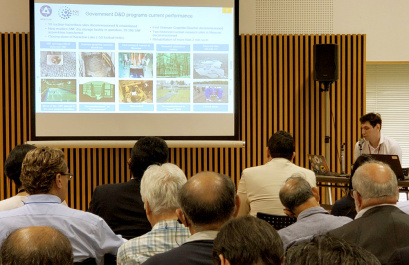 RosRAO took part in the 4th International Forum on the Decommissioning of the Fukushima Daiichi Nuclear Power Station, arranged by Nuclear Damage Compensation and Decommissioning Facilitation Corporation (NDF), Japan.
Within the framework of the two-day program of the forum, issues related to the involvement of local communities in nuclear decommissioning projects were discussed.
Reports by representatives of the USA, Great Britain, France, Japan and Russia were introduced to the forum participants, as well as presentations of prospective scientific and technical R&Ds.
RosRAO's Deputy Director General for Overseas Businesses Sergey Florya  introduced a report on the Russian practice of interaction with the public during the implementation of complex projects on hazardous nuclear facilities decommissioning, rehabilitation of the territory and research and development by RosRAO.
"At the moment, the forum has become a center of attraction for the global scientific and technical community, on the sidelines of which current technological trends, managerial decisions during the implementation of complex projects of nuclear power plants of the scale of Fukushima Daiichi Nuclear Power Station are discussed. And of course, an invitation to participate in the plenary part received by RosRAO from the forum's organizers is a good opportunity to exchange modern ideas with key stakeholders in the nuclear world", – Sergey Florya said.