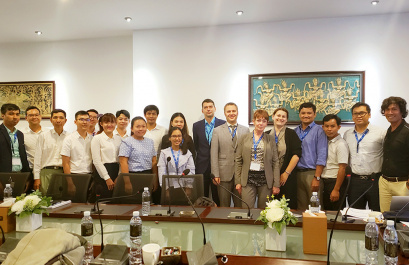 August 8-9, Phnom Penh, RosRAO supported by the regional office of Rosatom State Corporation in Southeast Asia held a training session for the Ministry of Environmental Protection and the Ministry of Mines and Energy of the Kingdom of Cambodia.
The event was organized upon the request of the Department of Hazardous Waste Management of the Ministry of Environmental Protection of the Kingdom of Cambodia as part of the Russian-Cambodian joint working group on cooperation in the sphere of peaceful atomic energy use.
During the training, there were considered the matters of creating and developing a national system for the management of RW (radioactive waste) and IS (ionization sources) within the framework of the sustainable development agenda, the formation of a RS and RW accounting and control system, as well as practical aspects of ensuring radiation safety during work with IS, and modern approaches to interaction with stakeholders.
"The Kingdom of Cambodia has one of the highest rates of economic development among the countries of Southeast Asia, the country is changing actively its technological and industrial landscape. In this regard, it is extremely important that colleagues are already systematically paying attention to the formation of a national radioactive waste management system that will ensure the sustainable development of national industry in the long term. We highly appreciate that our colleagues decided to turn to Russian experience and best practices in this area and chose our team as the provider of the educational session" – remarked Dmitry Kucherov, Head of RosRAO's Department for Development and International Business.