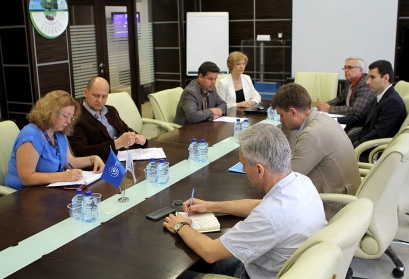 The first inspection audit of the quality management system (QMS) was arranged in Directorate General of RosRAO and its subsidiary in Privolzhsky Region within the period of May 19-25, 2016. The audit included estimation of milestone changes in QMS of the company taking into consideration the requirements of the international standard ISO 9001:2015.
As a result of the audit the authorized body took the decision on compliance of RosRAO's quality management system with the requirements of the updated international standard ISO 9001:2015 and on issuing a certificate with an extended certified area:
Acceptance, transportation, processing, bringing to the acceptance criteria and interim storage of radioactive waste (including spent sources of ionizing radiation).
Transportation of sources of ionizing radiation. Charging and re-charging of radioisotopic devices with sources of ionizing radiation.
Decommissioning of nuclear and radiation hazardous facilities.
Design and construction of radiation sources, storage facilities for radioactive substances, storage facilities for radioactive waste.
Capacity of a general designer,  general contractor and construction customer.
Shaping, coloring, long-term storage and maintenance of reactor compartments of decommissioned nuclear-powered submarines and block-packages of the nuclear maintenance vessels and nuclear-powered icebreakers.

Thus RosRAO turned out to be one of the first nuclear companies in the Russian Federation that has received a certificate for the compliance of QMS to the updated standard.
A certified QMS shows the ability of the company to provide proper services with due regard to the requirements of the involved parties and gives an opportunity to conclude the state contracts and submit tenders as well as to gain access to cooperation with big Russian and foreign companies.