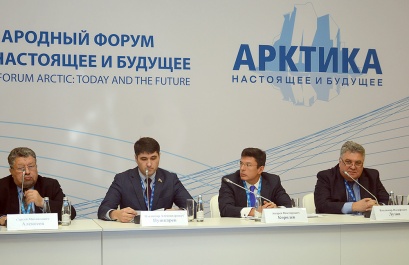 VI International Forum «The Arctic: Today and the Future» was held on December 5-7 in St. Petersburg. Among the key issues of the forum were the plans of the arctic regions to develop the milestone zones, government support patterns and practical matters in the Arctic regions.
RosRAO's CEO Vladimir Luzin reported on «Clean-up after industrial and military activities in the Arctic regions». The report was dedicated to the ecological problems and vitality of rehabilitation of the Arctic areas as well as RosRAO's relevant experience.
In order to solve the tasks for the Arctic areas rehabilitation, RosRAO created a specified subsidiary Centre for the Arctic Nuclear Legacy (Murmansk). The Centre is in charge of the Arctic projects and thus drafts the proposals on RosRAO's strategy concerning participation in the Arctic rehabilitation projects.
As in previous years the Forum resulted in a resolution based on the topical issues and proposals of the participants regarding development of the Arctic regions. The document is intended to be submitted to the State Commission on Arctic Development.